Updated July 6, 2012.
We found this recipe years ago in RAW FOOD REAL WORLD by the incomparable restaurant owners and cookbook authors Matthew Kenney and Sarma Melngailis. We plain and simply do not know how anyone survives summer without this soup. As I am typing this blog it is over one hundred degrees in Chicago. There is a kind of nausea and wilting that goes with that kind of heat, even for those of us blessed with central air conditioning. I can't eat just any old thing. It has to be light and fresh and satisfying and this really fits the bill. This is pretty much my standard contribution to any summer parties we are invited to. I carry it to the party in 2 gallon jugs and then bring a wonderful bowl or tureen for serving. I always get requests for this recipe.
We agree with the authors that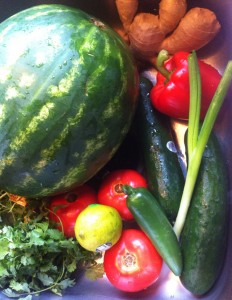 you need to do your best to steer clear of theseedless/tasteless watermelons (or seedless anything for that matter) as the recipe hangs on the balance of the sweet watermelon paired with the acid of the summer tomatoes. We love organic sugar babies, as the seeds are so few that there is no seeding required and the size is perfect for this doubled version of the recipe.
In doubling Raw Food Real World's Original  recipe I use an entire small sugar baby watermelon. Once I get my ingredients out and get chopping I want to end up with a really big batch. Plus I don't like to have left over watermelon as it gets pulpy really fast. This recipe is great for a party, to feed a big group, or in our case to have two meals wrapped up with one episode of sweating in the kitchen.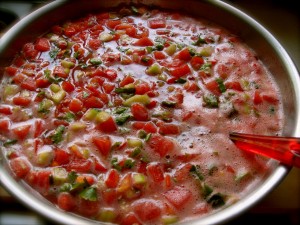 I use a really large stainless steel bowl for this recipe. I hate to measure, so I just use the entire melon and it turns out nicely. I pack my Vitamix with watermelon as this will become the liquid for the soup. Then I chop the remaining melon and the rest of the ingredients. I am careful to give it a really good stir before I put in the watermelon liquid. Don't skimp on the fresh ginger (actually I go a little heavy-handed on it as it makes the soup.) Being Irish and all, we like our double recipe to still include only 1/2 of a jalapeño. But, hey if you are a hottie, go for it with the jalapeño. Once you pour the blended watermelon over the chopped ingredients you have a divine meal that is fragrant and satisfying beyond belief.  We enjoy it two ways: 4 or 5 bowls room temp  from the Vitamixer and and then 4-5 bowls nicely chilled later. Scrumptious!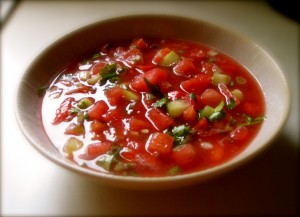 WATERMELON TOMATO GAZPACHO
6 cups watermelon (1/2 small watermelon)  chopped and pureed in a blender
1/2 watermelon, diced small
2 large or 3 small seeded tomatoes, diced small 
2 cups peeled, seeded cucumber, diced small – (1 English cucumber or 2 whole Kirbys)
1 and 1/2 red or orange or green bell pepper, diced small
4 TBSP lime juice
2 small handfuls cilantro leaves. lightly chopped
2-3 teaspoon minced ginger
1/2 small jalapeño, seeded and minced
2-3 green onion, white and 1 inch of green, minced
2-3 teaspoons sea salt
Freshly ground black pepper
Pour watermelon puree over the chopped ingredients. Stir and serve, room temp or chilled. This is a great meal-in-one bowl affair; but if you want heavier fare pair it with guacamole and chips – DIVINE!