By Mary Duggan
Come on everyone. Dig out that photo of you and your first day of kindergarten. I know you have one. Why? Because it is such an important day in the life of every parent and every little kid; that first tentative and scary stepping out into the great big world alone.  So many of our parents captured the moment with a snapshot; in my case our wonderful neighbor, Ann Norman, preserved the memory. It was a photo that she so treasured that it took me years to convince her to let me have it for just a few hours to get it copied.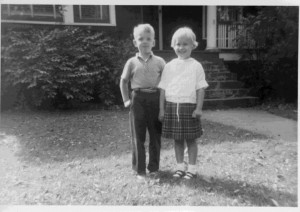 My kindergarten memories are absolutely dreamy. Here I stand with my brand new next-door neighbor Bill Norman, on the verge of my first day of school and my first kiss. Yep, Bill Norman, under the mobile, day one, and reported on to his mother. I loved absolutely everything about kindergarten from naptime to the itsy bitsy kitchen area to my kind and loving teacher. Sorry Bill, I have no memory of the big kiss.
What I do remember was the teacher telling me that I would have to be more careful on the three block walk to school to insure that my beloved border collie, Lucky, was not following me. Kindergarten was a half-day back then. And each day at noon I would step out the side door of Alice L. Barnard Public School to my dog Lucky, waiting to walk me home.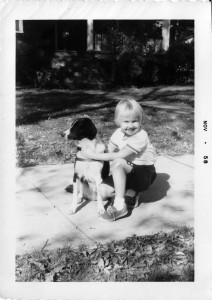 Lucky was the beginning of my love affair with dogs and the beginning of a series of amazing dogs gracing my life with their presence. I still swell with emotion as I remember the voice over the public address system a few years later at St. Barnabas Grade School. "Will one of the Duggans please report to the principals office?" Yep, Lucky again, under the flag pole in the front of the school, refusing to be shooed away with so many of the little charges entrusted to her housed within. Yes, I remember feeling safe. I remember being safe.
But here's why I would like you to pull out that photo if you are blessed to have one. I want you to look that little you in the eye and make an apology and a promise. I am sorry the world has become such a dangerous place. And I promise I will do my part to change that. For me, that means remaining a voice against GMOs and their proven connection to increased psychosis and violent behavior. I know, I know, you say it can't be that simple. But true genius is always defined by simplicity. I grow daily more convinced that the blood brain barrier penetration of these contrived substances and the dire behavioral consequences that ensue will become the rallying cry of our time. I am willing to be labeled a nut case to carry that message forward. Get wheat out of the tummies of our children, and out of the diets of the mentally ill. It matters.
POST SCRIPT
My kindergarten photos were taken in 1958, the year that genetically modified wheat entered the world food scene and began to wreak havoc. Back when celiac disease, autism, irritable bowel, learning disabilities ands kids taking anti-depressants were rare or unknown completely and gun violence in our schools unimaginable. Hum.