By Mary Duggan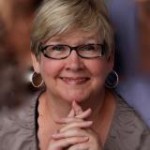 BOOT 'EM TO THE CURB CAMP is our top priority this summer. How about  you? Would you like to join in? Have you considered the possibility that parasites might be the cause of your appetite and bloating? Are you consistently feeding more than just you? Do you have an actual diagnosis of an auto-immune disorder that is leaving you feeling exhausted, in pain, infertile and afraid of a dismal future? Is Candida Albicans rearing its ugly head – AGAIN!? Didn't we all clear that years ago? Is inflammatory "itis" of any and every variety (colitis, bursitis, tendonitis, arthritis, etc.) leaving you feeling old and more and more limited in what you have the energy to do? Welcome to the club and join in on the fun.
In our household, Clare has done all the hard work and Annie and I are gratefully going along for the ride. We're going to boot it all to the curb at the summer health camp Clare has designed to restore our health and optimize our energy. Join us behind the scenes for just a glimpse. We started our journey with a visit to the Integrative medical doctor, got the requisite tests and witnessed lots and lots of preparation on Clare's part. Now it's one day at a time for the next three months – or for as long as it takes.
CLARE IS TAKING THE LEAD: When a physician used the words Clare and Advanced Lupus in the same sentence I could feel the bottom drop out of my world. The journey this year to get Clare and that bottom both restored has required big changes and plenty of soul searching for the sisters. While Annie and I had fought our own battles to live healthy lives in a sick world, we had always believed Clare had somehow miraculously escaped the dreaded auto-immune diagnoses so many of our family members have been given. Of course, that was wishful thinking.
Too many scary symptoms and lots of pain in recent years demanded an end to the denial. It required a renewal of our commitment to addressing the underlying causes of auto-immune; and of course our commitment to each other as sisters. For better or worse, we are in this crazy DNA-love-genetics-sisterhood together. And it's time to get serious sister-style: which generally means the food has to be really delicious and the form of medicine has to make sense to sane people. We know from family, friends and supporters just how many of you are suffering as well with these baffling and scary conditions. So won't you please join us, as we enter level one preparation for life as health warriors. We're calling it Boot Camp cause it's gonna hurt and it's gotta work.
THE DAILY DRILL – Clare spent months preparing us for the big good-bye to coffee, wine, sugar, vinegar – the list goes on and on. She took us so gradually to the big day that it ALMOST didn't hurt. And she got us to focus on what we are adding in to our daily lives – not what we are eliminating. The add-ins are substantial and discipline is the order of the day – that is if we want the sweet reward of restored health. Sweet yes, but sugar free.
The Big Voice when we, as sisters, first took on Candida some 25 years ago was Dr. Crooks. But so much more is now known about getting and staying well. Fortunately because every year we seem to collectively have so much more at stake as the dreaded "itis" surfaces in each of our lives in different disguises.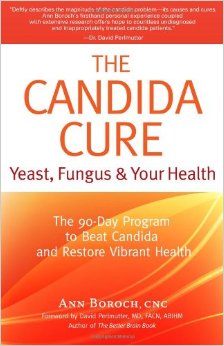 Ann Boroch, N.D.s The Candida Cure is the travel guide for our most recent adventure addressing the infections, parasites and Candida that underlie inflammatory conditions (think "itis") and auto-immune disorders of every description. So while we are collectively dealing with Graves, Hashimoto's, Lupus, Ankylosing Spondylitis and a few more friends from the Itis School Of Leaky Gut know that there is room for everyone in our club – it's wide-open enrollment folks. It really doesn't matter what "version" your body is manifesting. Whether you're battling RA, MS or any other letters of the alphabet, the challenge remains largely the same: how to take on and take down the underlying causes. Our guts are all leaking and healing them is necessary for wellness. The granddaddy of all offenders is the yeast and parasite duo, so we will start there.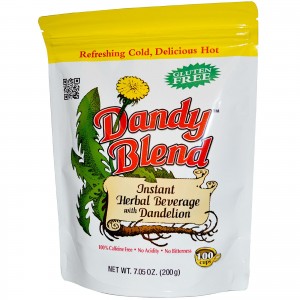 We love coffee and we are very careful about it being fair trade organic and made with filtered water and all that good stuff. But this Spring we have reduced, dwindled and finally curtailed altogether our love affair with our favorite wake-up and smell the coffee bean. In it's place we are truly enjoying Dandy Blend, a Polish blend of roasted barley, rye, chicory root, dandelion root and sugar beet. It is dark, sweet, satisfying, completely not bitter and delicious. I have to hold a mug of something hot and rich in my hand in the morning, so this has been the perfect coffee substitute.
Our Summer day then goes into anti-fungal mode with our first of three cups of Pau d'Arco tea. I am now three weeks into this diet and cleanse and I have to admit that I can feel the kick from the herbal delights of Pau d'Arco. Having endured the dreadful, and ultimately unsuccessful rigors of Nystatin and Diflucan 25 years ago, I am enjoying this yeast killer way more than those pharmaceuticals. I am still experiencing plenty of die-off, but the need for extra sleep and occasional headache are way more manageable. I have sipped on Pau d'Arco for years and felt nothing. Combined with the sugar free, corn free, blah, blah, blah diet I am feeling its kick.
With our requisite 3 cups of Pau d'Arco spaced out during "no food" times of the day, we are sipping lots of Red Clover Tea to strengthen and purify all the organs in our body that are straining under these toxic invaders and really hurting during cleanse-season. I love the do-by-self tea bags that Clare got us. They make it so easy to travel and still make a daily quart for each sister. Hot or cold, we're wetting our whistles all day long with Red Clover – but not too late, or it will keep you up.
But before we begin our soggy tea-soaked day we chug 4 ounces of Aloe Vera juice – to rebuild our leaky little guts – and 4 ounces of Tart Cherry Juice. We load up our cherry juice with 2000 mg of Vitamin C and a product from our doctor that also heals the all-too-common leaky gut. Make sure you have a doc involved so you hit it on every base. We repeat this protocol at the end of the day, as well. The Vitamin C is an important part of adrenal support – and I know very few auto-immune folks who are not also seriously depleted in the adrenal department. Also, this Boot Camp is sure to bring on weight loss; and that means making sure that our collagen production is going full tilt. Sugar destroys collagen so being sugar free will have many benefits. And high dosing of Vitamin C should aid in skin repair. There is nothing uglier than a sagging face (and other unmentionables) following unhealthy weight loss programs.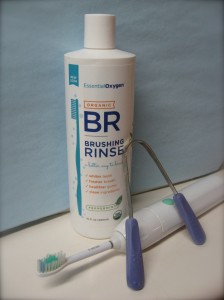 Actually I skipped a step. Before I do anything with my mouth – except maybe squeak out a quick Good Morning to the Sisters – I take a swig of our favorite new tooth cleaning solution. Yep, it's no more tooth paste for the sisters; not since we were introduced to BR at the recent EXPO West for Natural Products. Folks are always asking us why we don't make toothpaste. Now that we have discovered BR we know why. Somebody else has already created a remarkably effective innovative way to clean our teeth and gums and tongue and breath – naturally and oh so effectively. We use our BR and our Sonicare before we even swallow our morning Armour Thyroid and B12 tabs. It's so important to your immune function to not send the toxic crud that has been stockpiling in your mouth all night straight down the trap. Clean your mouth and teeth first and then begin your tea-soaked day. It gives your sinuses a wonderful boost, as well. Closest thing to that fresh mouth feeling you get following an Aryuvedic Oil Pull that we have ever found – and way easier and faster – on a daily basis. We'll talk Black Hairy Tongue later, in case you are wondering. And yes, if your Chinese tongue scraper has seen better days, freshen it up before boot camp begins – it is going to get quite the work out.
MAKE THE DENTAL CONNECTION: Dental missteps are frequently related to the onset of auto-immune disorders. My parents were devastated when their eldest son was diagnosed with very severe Anklyosing Spondilytis as a teenager. His prognosis was harrowing and watching the progression of the disease was heartbreaking and searing for me as a kid. Years into a crippling and potentially fatal disease he made a complete paradigm switch, restored his own health, and permanently altered how I view disease, medicine and wellness. In so many ways he inspires how I think, heal and move in the world. Years into reclaiming his health he made the connection that his first episode of this RA-like disease followed a visit to the dentist as a really young kid and having close to a dozen cavities filled with mercury fillings! Dental awareness is critical to preventing and healing from all auto-immune malfunction. 
Remember cleansing does not mean NOT EATING. Are you kidding? Do you honestly think we could sustain that for any time at all? In fact, cleansing means taking the utmost care with your food and in the case of boot camp following some serious but do-able guidelines. It does not mean nasty food – AT ALL. Clare prepped for months, experimenting with lots of recipes, so we did not get hit all at once with a complete change of cuisine. She was wise in not presenting them as cleanse meals, so we (which means I, Annie is a much nicer and more polite person) did not have the chance to reject and insult them off-handedly.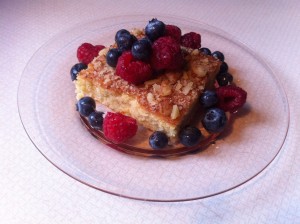 And yes, we are living without sugar, or corn, or vinegar (and a few more items) but no, we are not living without dessert. I swear Clare's Almond Coconut Cake is now one of my all-time favorite cakes. Not cleanse cake. Just delicious cake. And I am a cake nut. And yes, we've had blueberry crumble and the most delicious coconut macaroons – too. And I think this is so important; because it makes it possible to take it one day at a time – for a considerable period of time.
And we are not living without snacks either. Our dear friend, Lorraine Williams, from Washington, Iowa's amazing Cafe Dodici, turned us on to the gut healing, appetite suppressing delight of pairing Bubbie's Dill Pickles with Raw Almond Nut Butter. Try it. You'll like it. And so will your less and less leaky gut. It's a yummy, creamy-crunchy, sweet and sour delight of a snack.
Okay, that's a good start on the nutrition and supplement front. Next, let's talk about the other ways in which we detox. Coming up: colonics and other fun stuff. Okay, fun is maybe not the right word for colonics. But essential is. And so is invigorating. And so is effective. You get the picture. Fun is all in your outlook. And life gets way more fun as the inflammation clears, and the gut heals, and the pain lifts and bright, whole energy returns.
Don't forget. Follow our Candida Boot Camp (#CandidaBootCamp) on Facebook and Twitter for ongoing recipes and healing anecdotes. I promise there will be NO photos of us undergoing hydro-colon-therapy. Unless, of course, I can get Annie to agree.
PS: A big thanks to Clare for always being such a good sport about photo illustrating all my blogs.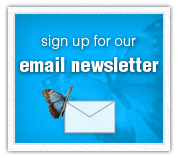 Stay in touch! Sign up to receive alerts when Mary posts a new lifescribe blog.
About the author: Mary Duggan is Co-Founder and President of the Duggan Sisters
The Duggan Sisters cracked the code and created a natural deodorant that actually works: lifestinks. And that was just the beginning. We hope you will spend a few minutes exploring duggansisters.com to experience their spirited approach to wellness through their natural products and healing stories.