By Mary Duggan
When I say I am a worrier, I mean if my 16-year-old cat is curled up, blissfully enjoying a sunbeam, I stare long and hard to make sure he is still breathing. I take the very ingredients of a peaceful existence and wrap worry around them. When I say good-bye as you head out the door, I mean don't die in transit. When I say good night, I mean please wake up in the morning. When I say have fun, I mean come home from the carnival in one piece. When I say worry, I am talking layered.
Layer one: never let someone's age or maturity deter you.
My nephew is 24-years-old. On Tuesdays he works 9-5 for us, followed by an hours long editorial meeting at his other job. I worry about him having enough nourishment to sustain him on such long days. So, I try on Tuesdays to get our dinner ready early so I can pack some for him to take to his evening meeting.
Layer two: inspire others to worry as well.
I have gotten Annie invested in this if we don't feed him he'll keel over on the El tracks program. She now syncs up with me in the kitchen on Tuesdays. Our nephew is a good sport about our largely raw lifestyle, but we really enjoy auntie-spoiling him on occasion too. He is a true foodie, a super conscious eater and a smarty pants about everything being gluten free. So, I will make up a gluten free, organic meat loaf, wrapped in farm raised natural bacon from the Farmer's Market and then finish it with a pure, organic tomato ketchup and pure maple syrup glaze.  All organic and free range and locavore and hormone free and on and on and on —just not raw.
Aunt Annie is great at bringing it on home with cozy side dishes. She is a master potato masher and veggie glazer. Hot from the oven and stovetop we put the entire meal in an attractive, partitioned travel container, with utensils, napkins, salt and pepper packets, and finger wipes when the recipe calls for it and we are feeling the call to auntie insanity. Then our nephew is off and running to the train while we stand at the window, watching him leave like he was nine years old. We pat each other on the back, congratulating each other on being the world's best aunts and reviewing and critiquing the day's offerings. We are breathless from the rush, proud and peaceful. Correction: we are proud. Only Annie is peaceful.
Layer three: go the distance alone.
I then begin to worry. I am convinced that someone on the train, someone desperate and undone by the dark economy, someone hungry for God's sake, is going to see our nephew and his phenomenal homemade meal on the go and overcome by the incredible wafting savory sensation is going to mug him and steal his meal.
That's what I mean by worrier.
I find it helps to share my worries. I take in the incredulous stares of my family when I tell them what I'm "thinking" at any particular moment, and try to relax. Or in the case of my nephew, upon hearing about this particular worry, his gentle smile, a laugh and a reassurance that "As good as your meat loaf is Aunt Mary, no one is going to mug me to get it."
With fear and trepidation, I share my recipe with you. It is so important to prepare gluten free treats for the ones you love. If you are not a raw vegan, you might enjoy it on occasion.
MUGGER'S MEATLOAF* 
Serves Four
Temp: 350 degrees
Prep time: 10 minutes
Cooking time: one hour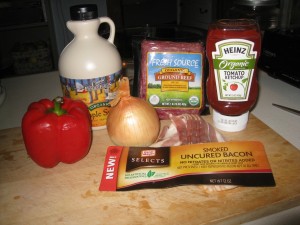 Place the following ingredients in a bowl and combine.
1 lb ground beef
1 small red or orange pepper, finely diced
1 medium yellow onion, finely diced
3 slices gluten free white bread, toasted and finely chopped
1 egg
a few dashes of Worcestershire sauce
salt and pepper to taste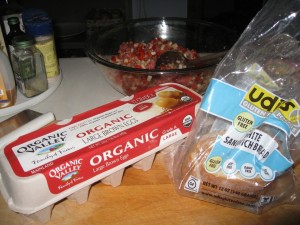 Using hands, form mixture into the meatloaf shape of your choosing. I like round. Don't overwork the mixture.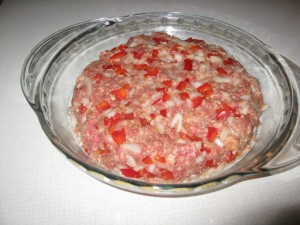 Prepare glaze: ½ cup ketchup combined with ¼ cup maple syrup
Pour 1/3 of glaze on meat loaf.
Cover top of meatloaf with 3 or 4 slices bacon.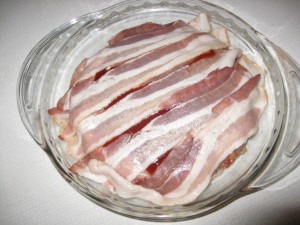 Pour 1/3 more glaze on top.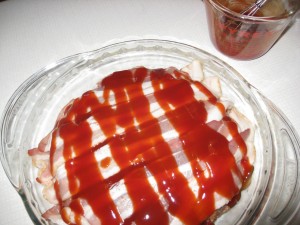 Bake in 350 degree oven for one hour.
Drizzle remaining 1/3 of glaze on meat loaf before serving.
* Do everything in your power to get ingredients that are organic, free range, local or home grown. You get the picture. Meat loaf isn't all that good for us. It's comfort food to be eaten when emotions and weather dictate. Do your best to make it healthy within the parameters of cooked foods. I find the more pure the ingredients I use, the less I eat. So enjoy. But watch your back.
About the author:
Mary Duggan is Co-Founder and President of the Duggan Sisters.
The Duggan Sisters cracked the code and created a natural deodorant that actually works: lifestinks.  We hope you will spend a few minutes exploring duggansisters.com to experience their spirited approach to wellness through their natural products and healing stories.
P.S.  Your comments are welcome. However, we receive a high-volume of computer-generated spam replies. Only comments from valid and verifiable e-mail addresses will be approved. Please be patient. Your comment will only appear after it has been validated by a human being.  This may take a few days.
Tags: gluten-free meatloaf, grass-fed beef, locavore, meatloaf, meatloaf recipe, organic meatloaf