By Mary Duggan
When I look back 5 years to the beginning of this deodorant adventure, I am astounded at what I did not know, did not know I would need to know, did not know I would come to know, did not know what I would want to know, and can not believe I now know. Got it? I turn sixty this summer. I know I am supposed to say 60 – the new 40. But actually I think I would have to say 60 – the new exhausted.
Five years ago I was firm in my resistance that we should not spend the extra money to have our photographs on our business cards. Annie won that round and set the date. That appointment led not only to photos on our business cards, but also to a website. The website led to a blog that we call our lifescribe, embedded videos with the requisite channel on YouTube, a small but vital e-commerce site that we call our lifestore, and very soon our first podcast. Lifecast? Podlife? The point is, I caution others: be careful about putting your photo on your business card. You can't imagine the places  where it will lead you.
Five years ago also meant the rigors and expense of farmers markets, street festivals, art fairs and other venues. While Annie headed out to purchase a tent, folding tables and all the necessary paraphernalia of that great gypsy adventure, I worked with our designer on vinyl signs and waterproof labels. Booth fees were just part of the mounting stack of invoices and when I would freak out I would hit the COST OF DOING BUSINESS wall (known as Annie) that I would find myself plastered against time and time again as this little endeavor grew and grew, seeming to have a life of its own.
Answering the phone grew quickly into answering hundreds of e-mails, posting a blog, managing both personal and professional Facebook accounts and maintaining regular correspondence with our business followers via e-newsletters. Somewhere in this shuffle my yearly Christmas letter fell by the wayside and Thanksgiving, Easter and St. Patrick's Day cards to a handful of elderly relatives met the same fate. I am now communicating up the ying-yang and yet I feel deficient in connectedness and I know I am not alone.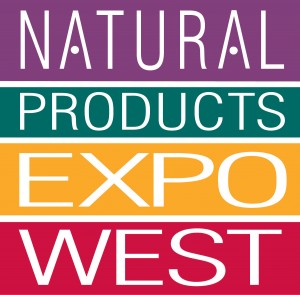 This year saw a new, and perhaps our most thrilling milestone, yet. We attended our first really big put-us-on-the-map trade show. Strangely enough, we essentially shipped our original farmer's market look in 5 UPS boxes, as the show parameters were strict and restrictive so there we were again with a 6' table, a garbage can, a minimalist product presentation, and updated vinyl signs.
As we entered the enormous convention center we followed the Natural Products EXPO signs for the NEXT New Thing Pavilion, described to us as a sort of farmer's market – minus the port-a-potties and early morning stench, that is, of kettle corn and chocolate cheese. True enough. We have never done a farmer's market that came anywhere near this shindig. But it was our farmers' market discipline and Midwestern work ethic nonetheless that got us there. And that is the powerful lesson, I think, in the experience.
Our experience of growing a family business artisan product into a global brand presence has been anything but an overnight sensation. There have been no shortcuts. The victories have been steady, small, and hard earned and I think that makes us just like every other enterprise out there. Well maybe not every vendor out there – do check out the shows one really big oddity –  Southern Belles. These gals aside, I think steady, conscious growth rules the day every day.
I can't believe how many people have followed the story of our business. I am humbled and astounded on a daily basis. And I have to wonder why. If I weren't the President of the Duggan Sisters would I give a damn about their progress, their foibles, their escapades, their participation in a trade show, for God's sake? Here is why I think so many people do care. And here is why I take the time (and joyfully so) to share stories from the frontlines of the deodorant business.
The metaphor that drives the entire lifestinks experience is at the core of what makes millions of real people put one foot in front of the other day after dreary day, despite fatigue, discouragement, broken hearts and dreams deferred. It is the belief that sometimes the good guy actually wins; sometimes the little broken guy takes the gold; and sometimes hard work and sacrifice combined can create a real live all-American success story that goes so far beyond some Made In America sticker that it inspires others to pick up their own dashed hopes and give it one more try. At least I like to think so.
Every day and in every way I think of all of you coming along for the ride. This is our story. This is your story. This is the story of anyone who has ever said I will not be vanquished. I will not be silenced. I will not be defeated. I will not give up on US. So come along for the ride, as we stand in front of the big boys, heads held high, backs aching and arches falling. Come along to our first trade show. Let's show 'em everything we've got – just not our lace panties.
 Click to read EXPOsé: Part Three: "How Sweet It Is"