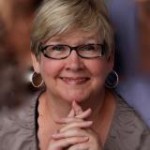 by Mary Duggan
I read a discouraging post on Facebook recently. I was a "bystander" to a conversation between two friends. One of the two wrote that she had not been watching Downton Abbey since the episode depicting the rape of Anna Bates. She found it to be just too intense, too ugly for her tastes or something to that effect. Her comments filled me with rage. I wondered, who among us gets to be too sensitive to witness the very real and tragically common crime of rape?
I am a HUGE fan of Downton Abbey and I applaud the show's creators for including this crime in their story line. I can't wait to see how they handle it. I am holding my breath and praying they handle it better than our family did when my dear sister, Annie, was raped as a young woman. So far the wisdom and compassion the wonderful Mrs. Hughes is showing gives me great hope that I will not be left frustrated and angry. I hope that Julian Fellowes writes a story with a better outcome for his Anna than was written for our Annie.
Like Downton Abbey's Anna, my sister was violently attacked and brutally raped within the sanctity of her own community. She was driving our Mother's car home from a high school party, graciously dropping other attendees at their homes as she headed to her own. She sensed danger when she was left alone in the car with the friend of a friend – a complete stranger. Within moments the foreboding became an overwhelming reality when he overpowered her and raped her on the quiet tree lined streets of our lovely little community of Beverly. Home to both of their families.
By the time she found the courage and composure to go home it was way past curfew. Our none too tender single Mom greeted her in the kitchen with an understandable fury about a curfew being broken and sent Annie to bed with a stern scolding and a punishment. As soon as Mom had gone to bed and fallen asleep Annie snuck back outside to clean the blood splattered car. Her beautiful daughter had been raped but our exhausted Mother had no idea. Frightened and exhausted Annie lay on the couch for weeks – but nobody noticed. Nobody read the signs. Unlike Downton Abbey, nobody questioned her appearance or her behavior or her mood. Failures abounded.
Then Annie began to change. Profoundly so. And no one understood why. Her language and dress coarsened. Her grades plummeted. Her health failed. She acted out her rage and grief in a manner that further damaged her. She began to use drugs – and seriously so – to provide the courage she needed daily to attend school. She had been thrilled to be a member of the first class of girls to attend a formerly all male College Prep. Now the presence and predominance of so many  boys was a torture. Her life had gone dangerously off course.
Years passed before that changed course became a full derailment in my own front yard in Kansas City – so many miles and years away. Annie landed on my doorstep in real crisis as the post-traumatic stress of the rape threatened to completely destroy the altered life she was trying so hard to construct. I was shocked and horrified as she began to tell me her story.
That night of the first telling, I vomited at intervals. After sneaking off to the bathroom, I would return to the small guest room of my apartment where I nursed the puss-filled lesions in her mouth and throat that were choking her ability to speak and swallow and breath; a condition that had occurred at regular intervals in the years following the rape. With each spoon of home remedy that I administered the story would come forth with spit and cough and phlegm and pain. An intense and ugly story to tell. But a story that desperately needed to be told for any healing to occur. So I wrapped her throat in a ginger and garlic poultice and fed her spoons full of honey and listened and gently questioned. We both sipped tea. We got it told. We clung to each other in the bed as dawn came finally and we were able to sleep.
I wanted to know why she had kept it hidden for all these years. Why she had not reached out to the family that for all of our collective dysfunction loved her so  dearly. Because, she said, I knew what my brothers would do if they found out. I knew they would kill him. And then what would I have? One of my precious brothers in prison. And so for her brothers, and who her teenaged self believed them to be, she had endured the brutal crime in silence. She had allowed it to twist and distort and diminish her own life rather than run the risk of damaging the life of anyone else. Sound like a familiar story line?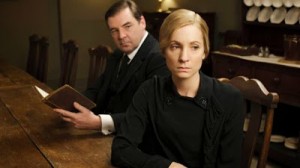 In the years to follow the rapist would resurface in public to taunt her. One beautiful summer day she was gathered on one of Chicago's glorious beaches with a group of friends. Suddenly he appeared on her blanket, kneeling before her, an unlit cigarette dangling from his sneer. "Got a light?" he asked her. When she responded that he needed to get the F out of her face and now, he slunk away, laughing over his shoulder. And then she had to suffer the further derision of her friends wondering what the hell was wrong with her. Jeez, all he wanted was a light. Are you crazy? I can't imagine the anger she must have suffered.
And so I remain engaged with Downton Abbey's unfolding story line. I want to see if the collective of lives within the Abbey can find some way to find justice for Anna.  Will the violent and cruel and criminal man that Mrs. Hughes has so correctly identified and described be held legally and criminally accountable? Or will misplaced shame and male rage leave Anna endlessly victimized? I hope the cast of fictional characters of Downton Abbey perform their roles better than the real life cast of our Annie's story. Sadly rape remains timeless – no matter the fashion or length of hemline or style of hair. Good men and women have to ensure justice without further brutality to the victims. I want to see how Bates and Hughes proceed. I pray it will not be the epic failure that our family allowed. Annie's rapist was never held accountable. We afforded him a life free from consequence. Most likely he raped again.
POSTSCRIPT: Upon completion of writing this post, I read it to Annie and asked her permission to publish. I watched her face contort in pain as I brought up these painful memories. We talked, Clare weighed in, we all talked some more. And then Annie said, let it go, making the sign of the cross in the air between us. Maybe it can help someone else. I have shared it privately many times when I thought another woman needed to hear it. It's what we do, she said. And then she pushed away from the dining room table where we had gathered. The day was only half over and there were deodorant orders to be filled. And one had to be hand-delivered to an ailing cousin. And there was a series of calls to be returned and tax forms to be filed before she could call it a day. So off she went. Because, in the end, it's what we do.
 Be sure to read Mary's follow-up post:
We Broke the Rape Rule: After Words

About the author: Mary Duggan is Co-Founder and President of the Duggan Sisters.
The Duggan Sisters cracked the code and created a natural deodorant that actually works: lifestinks. And that was just the beginning. We hope you will spend a few minutes exploring duggansisters.com to experience their spirited approach to wellness through their natural products and healing stories.
****** Please leave your comments and thoughts below. We love hearing from you.******
Tags: Anna Bates, Anna Rape, BBC, Downton Abbey, Human Trafficing, joanne froggart, Julien Fellowes, Mr. Bates response, Mrs. Hughes Quotes, PBS, Rape, suffering in silence, Super Bowl, Super Bowl XLVIII, Violence Against Women