By Mary Duggan
Here is what thousands and thousands of dollars gets you.
An empty 10′ x 10′ space that's your biggest and best chance to get your story told. To make your mark and hold your own. To capture the imagination and dollars of shopkeepers and distributors and media from all over the world. You and the other 3,000 exhibitors at the Natural Products EXPO, that is. The Duggan Sisters got notified AT THE VERY LAST MOMENT that this very special corner space in the Health and Beauty section was available; but there were only 5 days to prepare and meet the absolute final shipping date.
And so we worked day and night for those 5 days and shipped 670 pounds of our best efforts to Anaheim.
Add in the other items we direct-shipped and we're looking at some 800 pounds of really big dreams. 800 pounds of an amazing designer who has had our back since Day One and worked late nights to make our vision a reality. 800 pounds of suppliers and printers and label makers and shipping companies and our amazing technician, Janet – all of whom went into overdrive to make it possible for us to do in a few days what sane business owners do in a few months. And fueling this great big yes? A big-hearted angel investor who stepped in at the very last minute with the necessary capital to go for it.
Scramble to find a hotel room still available, book flights, and reach out to very dear friends in the area who said Welcome to LA with a healing whirlpool warmed and waiting for some very weary sisters. California, make way for the Duggan sisters.
On the way from the airport we retraced our steps from last year and stopped in at the Larchmont Bungalow. The always gracious Lorena was there with the most delicious gluten free breakfast options and a cheering report on the big career moves she has made this year. You meet the loveliest people selling deodorant; people who make LA feel like home the minute you land, shell-shocked from the cold and desperate to see anything green or in bloom.
Of course, if you followed our adventure at EXPO last year, you will not be surprised to know that my dear friend Maripat Donovan greeted me with a hug and a comment, "Well, you certainly won't get hit by a bus in that outfit!" This year we were put up in a different part of the complex – the beach cabana actually – and it was still House of Hilarity all the way. Check out the sign hanging over my bed.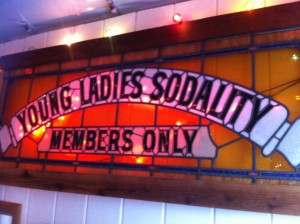 But there was no time to hang-out in LA. We were bound for Anaheim, so it was a quick check-in with Team Maripat, the Chihuahua squad, the giant tortoise, Mary the cat, Eddie the newest rescue dog, and then it was into the minivan. We have a booth to build. But not before Annie snuck into the kitchen of Maripat's food truck enterprise and blended our Green Smoothie stash for the next few days. Can you imagine the TSA inspectors going through our luggage and finding the 3 gallon jugs stuffed with freshly cut greens and fruit awaiting Maripat's blender? No liquids. No problem.
But then again, woman does not live by Green Smoothies alone. You better believe when we saw the sign for FONUTS we made a rapid-fire pull over. We'd seen this gluten free "bakery" on TV and were dying to try this LA-based gluten free donut that is steamed and baked not fried. Gluten free and vegan to boot.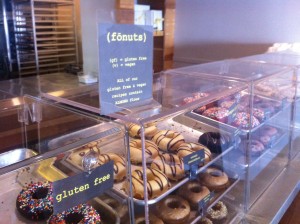 Trust me, I was feeling pretty LA with my FONUTS detour. Until I got back in the van, where Annie was behind the wheel and grinning ear-to-ear, holding our spot in the No Parking Zone. "Guess who just pulled up next to me? In a convertible Mercedes? Steven Tyler from Arrowsmith!" And here I thought FONUTS  was so LA!
Follow along with the fun. Click to continue to THE DUGGAN SISTERS' RETURN TO EXPO: Part Two –  10 Minutes = 9 Cookies 
About the author: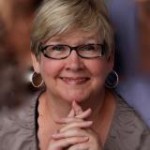 Mary Duggan is Co-Founder and President of the Duggan Sisters
The Duggan Sisters cracked the code and created a natural deodorant that actually works: lifestinks. And that was just the beginning. We hope you will spend a few minutes exploring duggansisters.com to experience their spirited approach to wellness through their natural products and healing stories.

**Please leave your comments and thoughts below. We love hearing from you.**
Tags: #EXPOWEST, Natural Products Expo