by Mary Duggan

ZIKA has everyone scared. And hopefully/probably heeding advice from the CDC. Most certainly women who are pregnant, women who might get pregnant, parents of kids and anyone who is in any way immune compromised. (My personal at-risk category.)
Michael Beach, deputy incident manager for the CDC's Zika response team, advises:
"If you are going outside, wear mosquito repellent. It needs to be the same as putting on sunscreen or brushing your teeth."
Great advice, I think. Because the Aedes aegypti means business. In fact, additional CDC directives even advise wearing bug repellent indoors all day long because this mosquito is as likely to be hanging out underneath your bed as in your yard. So saying yes to hours and hours of wearing bug repellent is our new reality. And important for protecting the health of you, your unborn child or your children.
But not if your bug repellent contains DEET. Not when healthy alternatives exist. And not when those alternatives are even more effective than DEET.
Dissing DEET is so easy it feels like fishing in a tank. But it's an important exercise in cautionary thinking. We have to look critically at the CDC's advice about repellents. Endangering our health in our desire to avoid bug-borne disease is nonsensical. Especially when we are making a decision about our kids.
Let's review just a few of the reasons why DEET deserves its bad reputation.
It's a registered pesticide in the toluene chemical family. It's used to make paint thinner, for Pete's sake!
When manufacturing bug repellent, DEET is often combined with ethyl and isopropyl alcohols and freon – pairings that create even greater toxicity.
It is absorbed through the skin and upwards of 17% passes into the bloodstream. And into my all-time most vulnerable and favorite body part – the GUT!
Duke University studied it's impact on the central nervous system – especially when combined with permethrin – a chemical component of mosquito abatement spraying. Motor deficits and learning and memory dysfunction abounded. Kids' brains need an occasional break from school. They need fun in the summer sun. Not brain damage.
That's why the EPA made it illegal for any product containing DEET to make child safety claims.
The US Government is not alone in its concerns about DEET. Health Canada requires labeling of DEET-based products. In addition to wanting concentrations to remain under 10% (though many popular products out there have concentrations of 30%!) their labelling requirements include:
Do not apply over cuts, wounds, or irritated skin.
Do not apply to hands or near eyes and mouth of young children.
Do not allow young children to apply this product.
After returning indoors, wash treated skin with soap and water.
Do not use under clothing.
Do not spray in enclosed area.
Do any of those instruction sound compatible with kids (or anyone for that matter) having fun in the summer sun to you? They certainly didn't to me. And it was the beginning of my journey to find (and ultimately make) a bug repellent that performs better than the DEET-based versions that come with such worrisome warnings.
The first warning alone sounded alarm bells for me. It's summertime folks – nicks and scrapes and kids go together. And don't bugs bite through clothing? But I can't put DEET-based products on underneath clothing? And bugs bite my face like crazy. But DEET repellent can't be applied to the face. Enough. As the saying goes – there had to be something better.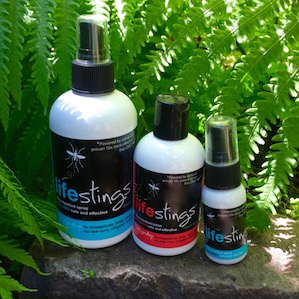 When I rejected DEET I knew I wanted a natural that was safe and healthy. But it had to perform as well as DEET. And I wanted it to be a much more pleasant experience than any product – DEET-based or natural – that I'd ever worn. Living in the Northern Hemisphere, I wait all year for the summer sun. I don't want one minute spent wearing a sticky and stinking bug repellent.
My journey led to the creation of lifestings. Building my product on the tested efficacy of an oil 10X more effective than DEET has restored my connection to nature.  Day or night. Indoors or out. I. Feel. Safe. Ten times safer, in fact.
Stay in touch! Sign up to receive alerts when Mary posts a new lifescribe blog.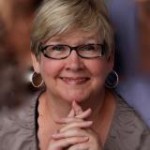 About the author: Mary Duggan is Co-Founder and President of the Duggan Sisters – creators of lifestings® DEET-free bug repellent and lifestinks® – the natural deodorant that actually works. 
Spend a few minutes exploring duggansisters.com and experience the sisters' spirited approach to wellness; discover their award-winning natural products; and read their stories of victory against the odds. Connect with the Duggan Sisters today!