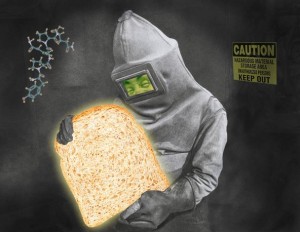 By Mary Duggan
Everyone is all a-buzz, or should I say all a-blog today about the Oslo study. Yep, it looks like folks who don't have celiacs disease can suffer from gluten sensitivity so they want to come up with a new disease. Feeding the victim mentality when it comes to our health. I think we have to shift the paradigm. Instead of trying to find a disease category for the catastrophe of wheat in the human body, let's tell the truth about the history of wheat and the consequences of GMOs and the Frankengrain that has been created. I do not test positive for gluten sensitivity. But I can read. Knowing what wheat has been proven to do as it penetrates the sacred blood brain barrier was enough for me. I treasure my brain function, especially after sustaining a traumatic brain injury more than a decade ago. Recently, after fourteen months meticulously gluten free I ingested some wheat inadvertently. Four days of GI and neurological hell followed.
Bad science has to be rooted out of our food supply or none of us will be well. I know I keep harping on folks reading "Wheat Belly" by Dr. Wm Davis. But I've plowed through enough peer reviewed journal talk on glutens to appreciate what he has accomplished with this wonderful little book. Finally, it's in the vernacular – wheat is no longer the Biblical staff of life. We can't wait to be told about the dangers of wheat from our doctors. We have to take them by the hand and lead the way, as is so often the case. Let's stop being wheat victims and celebrate our freedom from this monstrous Frankengrain.
POSTSCRIPT: This post was originally shared on Facebook but we wanted to expand and continue the conversation with all of you. Be sure to follow the comments and join in the conversation below.