By Mary Duggan
The writers are coming! The writers are coming! It's time for Chicago's Printer's Row LIT FEST and I couldn't be more delighted to see gluten-free bloggers and writers taking their place at the table. Especially ones with a great attitude about not letting a gluten-free diagnosis get in the way of being a super foodie. Such is the case with April Peveteaux, author of the blog Gluten Is My B*@#H!!!
Okay, all these younger than me bloggers use language that I just don't understand. No really, I am not any kind of prude. Most certainly not a language prude, but I am so out-of-date on how these expressions work. I went to my much younger sisters and said "What does that mean when you say Gluten Is My Bitch?" And they either couldn't (Annie) or wouldn't (Clare) answer and I thought for sure it came from some dark part of prison culture but I wasn't sure. So, I began to try all sorts of ways of using the word bitch around the  house hoping that through trial and error I would manage to use it correctly or should I say hip-ly. I failed miserably. Finally Clare asked, then begged, then demanded that I not use that expression because she can't stand it and the place it has taken in the vernacular.
Moving right along. Here's what I think is wonderful about this lady. She embraces gluten-free in much the same way the Duggan Sisters do. That's right folks, we are three health enthusiasts who have packed on the pounds by experimenting with all the gluten-free products on the market to confirm which ones allow us to have the occasional pancake, cupcake or pizza. We have found some marvelous products out there and we have the muffin tops to prove it. I can't stand it when folks bemoan the rigors of a gluten-free lifestyle. Would you rather eat wheat and watch it take you apart neurologically? And I can't stand it when they propagate misinformation;  like all gluten-free products taste like cardboard. No, they don't. And again, I have the back fat to prove it.
I am a big fan of inclusiveness. I think there has to be a place at the table for everyone in most every situation. It's just great that there are so many different voices at the gluten-free table. This talented and honest Cajun does a marvelous job of re-creating her food loves in gluten-free ways and she takes folks along for the ride with her witty blog. Someone who might not identify with the Duggan Sister perspective on gluten-free might really identify with her and make the leap to restoration and recovery Cajun-style. And that is what is most important.
One thing we all agree on and are careful to caution about is that enjoying gluten-free products can really cause you to pack on the pounds. And for sure this year the sisters are making a concerted effort to steer clear of these calorie-rich delights; once my June 8th birthday has come and gone, that is. I have requested orange-zest cupcakes with orange-zest butter cream frosting. And a few other gluten free delights, as well. As Ms. Peveteaux would say …"there are going to be days when you really, really want a cupcake." I think my 60th birthday is most certainly one of those days. Then it's back to the interval walks and grain-free lifestyle or we might end up with a new brand identity altogether.
If you are making your decisions about which of the amazing talents you want to meet at this weekend's LIT FEST, check out Monica Eng's piece in the Tribune. April might be just the gal to meet this June. I hope I meet her because I think she would just love my Mugger's Meatloaf and I want to share it with her. I wonder if Meatloaf Is My Bitch would have been a better title. Do I have it right? I don't think so. I better check with Clare before I change the title.
**********************************************
To join the Duggan Sisters for more adventures in gluten-free living be sure to SIGN UP for blog updates.  And click here to browse our archives.
About the author: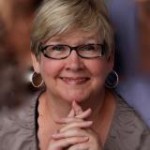 Mary Duggan is Co-Founder and President of the Duggan Sisters.
TheDuggan Sisters cracked the code and created a natural deodorant that actually works: lifestinks.  We hope you will spend a few minutes exploring duggansisters.com to experience their spirited approach to wellness through their natural products and healing stories.
****** Please leave your comments and thoughts below. We love to hear from you.******