By Mary Duggan
Let's just say the girls went garbage picking for my birthday. And it worked out beautifully.
In the weeks preceding the Big 60 there was much gnashing of teeth and sighing coming from my sisters about the plans for my 60th birthday celebration. Now the girls are big on doing it up really big when it comes to the milestone birthdays. When I turned 40 it was a Wild Women Road Trip to the Badlands. And they topped that one with a whopper when they took me to Paris for the Big 50. Like I said they are crazy generous and enthusiastic sister-friends and both times they pulled out all the stops with itineraries so jammed packed with fun that it defied belief. So what were they to do with 60 to celebrate and no cash available?
I tried desperately to let them off the hook. I adore organizing and had noticed that Container Store was running a sale on some specialty shelf liners that I had coveted for years. No really. I had always wanted them. I love to clean and organize and my kitchen needs them desperately. I actually suggested a gift of shelf paper. Really, I did. Of course I came quickly to my senses and then withdrew that particular suggestion. But I was determined to help with the party plans and pull the weight off their shoulders by taking all expectations down – way down.
I came up with the idea of really enjoying yet another stay-cation. I mean we live in Chicago, not some sleepy little hamlet. And we never make the time to just plain enjoy Chicago. So I proposed a bloom where you are planted – don't forget to enjoy your own garden kind of shindig. Better still, I said, let's build it around the Printers Row Lit Fest, which is always held on my birthday and which I never go to because I am always having some kind of big birthday fun with my sisters. Once I proposed a theme that we could all get behind, all that was left to do was peruse the daily Tribune build-up to the big event and circle the authors and events on the enormous 2-day calendar that interested me.
Just a smidge more fun than shelf paper? Not in the hands of my sisters it's not. And not when the party girl is a word nerd from way back. Every day I read articles about who was coming to town and I sifted and sorted through the options. Gluten-free food bloggers competed with celebrity chefs. There were local authors like Amy Sue Nathan and old friends like Billy Lombardo. Even Sting was on board with his Narrative Project. Then one day I came upon author Porter Gale who intrigued me with her "Your Network is Your Net Worth" take on entrepreneurs and marketing and other business-y matters. And despite apprehensions that it would trigger work thought, I added her to the list and even did the nifty little exercise she suggested. I shared the exercise with my sisters.
I want you to give me three words that describe your passions. Why? They said huffing and puffing in and out of the deodorant factory burdened as always with running an artisan shop family business with a family birthday to plan and celebrate, as well. A milestone one at that. Because, I said, if you are living and working at the intersection of your three primary passions, then you will be happy and whole and you will prosper, or something to that effect. Annie looked at me, wiped her sweating brow, ran to grab the UPS guy in the driveway, and said something along the lines of I Just Want Menopause To Be Over. That, I said, is not a passion. And it was not much better with Clare who said something along the lines of "If I for even one minute thought about how far I am from my passions I would lose it completely." Okay, point taken. I would do their passion self-examination for them. And because it was very close to the time of my milestone birthday I did not even garner any co-dependent enough for you eye rolling.
Annie thought her passions centered on knitting, yoga and reading – none of which, she reminded me she had the time to do because she was so swamped with the d#@n deodorant business. Those, I assured her, are not passions. Those are hobbies. I spent a fair amount of time thinking and informed her that her passions (remember now I was limited to 3 words) were Prosperity, Leadership and Service. I thought Leadership was a nice word to use instead of you are incredibly bossy. She took my analysis in stride but wanted to confirm my shoe size and whether I preferred lemony flavors or orangey flavors. So I knew she was in charge of the gluten-free cupcakes and that she had gotten my not-too-subtle hint that I wanted the $30 flip flops made from yoga mats.
Clare was a little trickier because I thought her phenomenal linguistic skills were probably in the passion range. I dreaded her finding out that her passions were not dovetailing with the work she was doing. I thought she might just scream, I Quit. I Hate This. For God's sake, I speak Dutch. I speak Italian. I speak Spanish and French. Okay you get the picture. Everything we do here is in English and even then the range is limited to lots of silent banging away at the computer with interruptions of I Hate Quick Books, or I Hate the Changes to Constant Contact, or I better stop there in case a potential investor is reading this and getting cold feet. But in truth I was worried that Clare would not find or fulfill any of her life passions in our little deodorant factory. Thank God I was in charge of her life review and could make certain that little revelation would not come into the light. I was successful. I informed her that her passions were centered on Justice, Excellence and Community and that they were being fully and fruitfully expressed in our worthy little endeavor. I told her and I think she swore at me; but thankfully it was in some language I don't speak and so I just said "Good Bien Bravo – our passion analysis is almost complete." All that was left to do was my very own.
That's when Clare dropped a piece of paper in my lap. She had scribbled Stories, Beauty and Health and said, "Here, I think these are your passions." Co-dependency is always a family affair and in this case fair was fair. Really, I said? Is that how you see me? I compared it to the notes I had taken on myself. They read: 1. Stories that tell the truth and heal. 2. True deep beauty that heals. 3. Wellness – no matter how elusive. Pretty damn close, I thought. Of course I'd used a few more words than just three; and succinct was not one of them. But I knew I was living to the best of my ability at the intersection of those three ideas – my passions. I knew at age 60 that with whatever time I had left I wanted those three ideals to be the focus. I took all the notes and all the passion analysis and pitched them in the waste basket. It had been fun. I didn't know if I would be able to fit in a Sunday am session with Ms. Gale, but I would definitely check out her book. When my back was turned the girls retrieved my notes from the trash and planned a birthday around them. Very little cash involved and no traveling at all. Best. Birthday. Ever? You betcha.

The bathroom mirror greeted me with a birthday note declaring Mary's 60th Birthday: the Corner of Happy and Healthy. This was a tradition our Mom had started years ago. It had fallen off the radar and it was wonderful to see it revived. The note also blocked a significant portion of my 60-year-old face, neck especially, and I found that to be delightful and kind.
I'd been offered a choice by Annie in the days preceding my birthday to either have cut flowers on my big day (gone in a few days) or the chance to go to the Farmers Market and hook up with our old friends the Lavanway Family and select hanging baskets to enjoy all summer. Mark and the Lavanway clan have always been the most loyal supporters of our products and some of our all-time favorite friends from our early days of hawking our wares shoulder-to-shoulder with the farmers and kettle corn guys. So to connect with them a few days before the big 60 and to come away with insanely beautiful baskets of flowers wildly reduced and then traded for bug goo was just too perfect a beginning to the festivities. But of course there was still a sweet arrangement of spray roses to greet me on the morning of the big day because the Duggan sisters are very good at breaking certain promises.
As I opened the spray of cards on the coffee table, the theme was revealed. Not ripped from the headlines; but retrieved from the trash.
Words. And lifelong regrets that despite my best efforts I have never actually become a writer were transformed. They had selected a very simple little effort I had made during the heady days of watching our products being dispersed at the US Open entitled Swinging Doors and actually had it published as a Kindle Single. I mean people actually have to pay for it and each time they do I make 36 cents. Can I have a whoop whoop here? I am a published and paid author. When they showed me I actually got kind of strange, almost scary heart palpitations.
Beauty. And lifelong disappointment in myself that by the time I finally managed to get my own roof over my head I was too broke and exhausted from starting the business to make any inroads decorating my first home or planting my decades-long anticipated garden of my very own. For last year's birthday they had commissioned the most wonderful garden design from our inspired architect-designer-neighbor Tom and I'll be damned they had been squirreling away some pennies all along and had a modest little account set aside for me to select a few critical plants to get the look going. That and lots of sweat equity means the long embarrassment is ending. At least in the yard. The elephant border in the living and dining room will have to be addressed in some other fashion or companion some other milestone.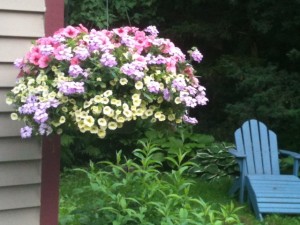 Wellness. Let's face it. I am reflective by nature. And my sisters are saints for always listening patiently to my musings. Can you imagine the navel-gazing that turning 60 has inspired? Or more to the point can you imagine how defeated the musings are when 60 arrives and I can no longer even see my navel? I can't believe that I have squandered all the gifts of 2 years raw in my/our exhausting commitment to launch a health product in the middle of the darkest recession since I don't know enough about economics to say when. You can not imagine how often my sisters have had to hear that tiresome lament. Really, "my cortisol levels are so high that…" is a phrase that I am able to weave into most every conversation. And aging does make me reflect on the devastating diseases that shaped my parents' final years; and so strokes and cancers, failing hearts and failed spines haunt me despite my best efforts to defy both nature and nurture. I so I must learn to move again. Move despite it all. Move because of it all. Move. Move. Move.  The memberships have been secured. The sisters Duggan are heading to Curves and taking advantage of the summer special. Please send prayers.
And then in the middle of this unfurling of passions noted, supported and honored there was a knock at the door and the delivery of flowers from a wonderful new friend. A brand new friend. A friend who reminded me in this enchanting act of generosity and love that it ain't over baby. There is always so much more fun and discovery just around the corner. New friends to be made. Fresh goals to be set. New victories to be celebrated. Wounds heal. Time takes and it also gives. It has most certainly given me my greatest gift – two sisters who have time and time again lifted me and my dreams from the dumpster and set me back on course. If I'm not careful soon they'll have me on a golf course. That's just how committed they are to my success and all its trappings. And yes, I got the flip flops made from yoga mats. The girls tell me I am going to need them pool side. I guess you are never too old to make one more REALLY BIG SPLASH!
HAPPY ENDINGS: A late Saturday night bite to eat at Kiki's Bistro was the perfect ending to a perfect day.
HAPPY PAIRINGS: We took a quick break from our Sunday celebration of words at Lit Fest to take a quick swing through the Wells Street Art Fair and connect with the wonderful artist friends who have taught us so much about hard work and big dreams fulfilled. 60th Birthdays are such a good idea.
**********************************************
To join the Duggan Sisters for more adventures be sure to SIGN UP for blog updates.  And click here to browse our gluten-free blog archives. Otherwise, select any category above to enjoy  Mary's lifescribe archives.
About the author:
Mary Duggan is Co-Founder and President of the Duggan Sisters.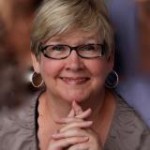 TheDuggan Sisters cracked the code and created a natural deodorant that actually works: lifestinks.  We hope you will spend a few minutes exploring duggansisters.com to experience their spirited approach to wellness through their natural products and healing stories.
****** Please leave your comments and thoughts below. We love to hear from you.******
Tags: 60th Birthday, April Peveteaux, Daisy Bags, Gluten is My Bitch, Rapt in Maille, Skipping Lillies, Stories