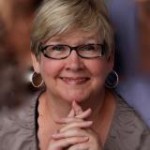 By Mary Duggan
When I was just a kid looking to find my way in the world of work, I had one guiding prerequisite. I wanted a job where I did not have to wear panty hose. I was not alone. There were plenty of other young women in my same predicament with my same tiny dream. You laugh now, you kids at jobs where you're allowed nose rings and tattoos and visible arm pit hair that is braided and patchouli-scented; but I came of age in darker days. My first "real" job was in a bank. It does not get any worse than that – not then, not now.
I made $2.67 per hour to work in Loan Operations at our local bank. It was 1971, the economy was in quite a slump and I was glad to get a job. My brother had pulled some strings with a fraternity brother working in Personnel – Job Search Chicago Style. I knew without applying that I would be miserable there. But, I applied anyways; because at least it constituted a step up from being miserable waiting tables at the local country club. Though of course I was making way better money waiting tables at the club, it was too dead-end a job for someone who should have been in college and not working at either place, or so my friends kept saying. But that is a bigger story. For today's purposes let's keep our eyes on the bank – and hopefully off my crotch.
It has to be said because it is historic fact and I want the younger generation to know, really know, all we went through to clear the way for their freedom of personal expression. The bank I worked for was local and charming and though a heavy-hitter in the world of banking it retained a charming neighborhood flavor and presence. It hired lots of folks from the community and on the 4th of July weekend it provided a fireworks display that rivaled larger venues in the city. It was staffed with some of the loveliest folks I have ever worked with and was guided by the President and aging visionary Arthur Baer who was deeply influenced by European work culture and wanted to grow industry to a place where Americans, as well, had month-long paid vacations. He was a proud graduate and booster of the University of Chicago, and was proud of me and supportive when I eventually took the big leap and gained acceptance to his alma mater. But that is a different part of my early banking career story. For now, just remember that  I was miserable there.
On the second floor of the bank there was a lovely small cafeteria that was generously subsidized and featured both hot and cold food counters and a grill for burgers and dogs. While I was able to walk home for lunch most days, and craved the movement and fresh air of a mid-day walk, I was bummed out (we said that a lot back then) that I seemed to be caught in a Mayberry-looped-life when all of my friends had advanced to places I had always dreamed of – places like Northwestern University. That was the biggest part of why I was being miserable working at the bank. So, I walked home to lunch like a grade-schooler most days and only opted for the cafeteria on rainy days and a few of the snowy ones. The cafeteria was divided into tables for the Officers and tables for the rest of us. You did not cross the invisible line. But you stood in the food line together and that is where the fashion snapshots were featured.
Back to my crotch; and the crotch of every other female employee as well. This folks was the very beginning of pant suits and it was tricky and treacherous terrain. You see, we were paving the way for a future Secretary of State and the Sisterhood of the Traveling Pants Suit and it was not easy. The idea of women wearing pants to work was big news and the bank was determined to keep a steady and controlling hand on this new and frankly revolutionary phenomenon playing itself out in their hallowed halls. So, there was a measuring system put in place that determined just how many inches the top or jacket of your pants suit had to extend over the bottom or slacks of your pants suit to insure full crotch coverage and of course the ability of all the male loan officers to be able to control themselves and focus on making money. Good luck with that, right?
Now it's not like they had someone greeting you at the door each morning with a yard stick. But, they might as well have. The number of inches of coverage required was clearly stated in your New Employee Handbook and the threat of enforcement was always there. At any point you could be called into a vault by your supervisor for a gentle reminder or God forbid called into Personnel itself for a more stern reprimand. No, instead of a crotch monitor at the front door they opted for the not-at-all subtle Polaroid picture taken while you were unawares – catching you in a moment of crotch compromise either front or rear – which I suppose is no longer called crotch, but will remain so for the brief duration of this tale. If you happened to get caught without enough coverage in the front a piece of black-out tape covered your photographed face before the Polaroid was posted on the glass-fronted display case in the cafeteria with a sign that read, "Do You Recognize Yourself Here?" Like I said, sometimes I ate in the cafeteria due to inclement weather; but the crotch-squad posting also called to me – and to lots of my fellow employees.
Of course in a small neighborhood bank everyone knew precisely who was who and who wore what and fercryinoutloud did they really think the black-out tape worked at all? More likely they knew the basic photo spread was quite effective as you rarely saw any deviation from the required dress code. But Lord the suppressed gasps and giggles at the lunch counter were not to be missed. This was also the dawn of polyester and so the entire message of synthetic and layered and oppressive was almost unbearable. Here we were, as women, finally able to work without panty hose; but the forces that be were still exacting a heavy and hideous price. All for $2.67 per hour and a complete smashing of everything you thought your life might hold.
Why do I go back to this memory now from the comfortable cozy cottony cottage where I live and work and where I am my own boss? Now I can work in jammies not because I want to but because like a mother with a new baby sometimes a shower and fresh clothes is just not possible when you are running a start-up. And sometimes I work in jammies because the line between waking and sleeping is no longer clearly drawn which is another way of saying I get to spend so little time in bed that at least I can extend the sensation by staying in my jammies. But neither of those is true for me – though I hear that sort of thing from other entrepreneurs – some of whom I'm related to.  What is true for me is that I have earned the  freedom to work in my pajamas. I got there by working really hard for a really long time under some horrible conditions and some wonderful conditions. I got there by working all sorts of different jobs and building all sorts of skills in the process. I  got there by showing up to jobs I hated and jobs I loved  – neither of which paid enough. And finally I got there by taking the most incredible I can't believe I am actually doing this RISK. I took an enormous chance on myself; and more importantly I tethered my life and my dreams to the lives and dreams of two of my sisters. We took the ENORMOUS leap together. We have survived the crazy-making isolation, the tummy plumping stress, the pulling your hair out daily frustrations of trying to make a real difference in a world of chemicals and pollutants and pesticides and all the havoc they wreak on our planet and our persons.
My dreams have grown ENORMOUSLY since the 1970s, when the best I could envision for myself was the deep hope that I would not have to plasticize my limbs every Monday through Friday. Yep, having to wear support hose in order to support myself. I can see now that in that seemingly simplistic desire to not have to wear pantyhose, a full-blown activist, both feminist and environmental, was being incubated. I wanted to feel real and alive and deeply-fully connected to the natural world while I was being offered an oppressive life played out beneath harsh flourescent lights, perched on a task chair, high heeled, girdled, sprayed, coiffed and dieting forever. No wonder we all got in our cars for the long commute home, cranked up the stereo and wailed all the way home with Aretha to You Make Me Feel Like A Natural Woman.
Now I'm No Longer Doubtful Of What I'm Living For and for that I am enormously grateful. The young woman's hope for a job with an easy going dress code has grown into a middle-aged woman's laundry list of desires: acquire additional venture capital; make packaging improvements without widening our carbon footprint; and transition from an artisan endeavor to a full blown manufacturing initiative smoothly and successfully top the list. Most days I don't even remember to sing anymore; it seems prayer and worry and endless strategizing have taken it's place. My mantra is Lord, make the suffering end. I watch as my sisters physically bend beneath the weight of doing all of this at such a precarious and strained time in economic history and I just pray that WE ALL can stay the course. And then wouldn't you know it one particularly stressful morning I find myself in the shower belting out the old-timey-tune Mares Eat Oats and Does Eat Oats and Little Lambs Eat Ivy A Kid'll Eat Ivy Too Wouldn't You and I just have to wonder – now where in the world did that come from? But I indulge in the  innocence and whimsy of that 1940s tune and I just keep belting it out. I have to marvel at the very real struggles of the legions that have gone before us and survived the toughest of times with grace and humility and sometimes a song.
I realize I need to sing more. I have to celebrate the victories. I do not have to wear panty hose to my job. I just have to show up  each and every day willing to talk to folks about body odor and the dangers of underwire bras and the imperative of a healthy colon in maintaining lymphatic wellness. Having my crotch monitored was probably as good a training ground as any for my future in personal care. And I am proud to say, I was never featured on the side of the food display case at the bank with you-know-what needing coverage.
Click here to read Part Two of  "Pantyhose, Polaroids and Pivots"
About the author:
Mary Duggan is Co-Founder and President of the Duggan Sisters.
The Duggan Sisters cracked the code and created a natural deodorant that actually works: lifestinks.  We hope you will spend a few minutes exploring duggansisters.com to experience their spirited approach to wellness through their natural products and healing stories.
****** Please leave your comments and thoughts below. We love to hear from you.******