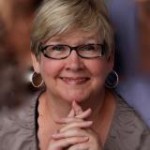 By Mary Duggan
Trade shows are a part of what we do; so travel has become a part of what we do. As have flea bag motels. Last weekend was Natural Products EXPO in Columbus, Ohio and we popped for the Hilton. Lots of reasons: registered late for the show; no time to research hotels. But mostly – 3 gals tired and wanting a bit of a pamper. Wake up – show downstairs. End of workday – bed upstairs. No traveling 30 minutes to the discount hotel and then spending an hour trying to figure out how to get a gluten free meal ANYWHERE. Cherry on the sundae? We stayed the night following the show so we could wake up to the warm whirlpool/cool swimming pool combo pack that we always find so healing. The trip home could wait just a bit.
It's 6 hours each way Chicago to Columbus. The reality was 8.5 hours each way with loads of construction, driving rains and an accident or two. The girls had to do some very white-knuckle driving. And even a small trade show like Natural Products EXPO Midwest is tiring. Everyone there, vendors and retailers alike, have already worked a long week. Arches are aching and brains are in slow motion before the event even begins. So waking up in the Hilton was quiet and restful on Monday morning. And sad too. Our darling dog had been dead a week and we really needed to talk about him and shed some tears and let the shock and mystery of it all just sink in. And then it was time to dry the eyes and flip flop on over to the gorgeous atrium pool room for some aqua r & r.
The wooden planks, taped up sign and orange danger cones greeted us immediately. Whirlpool under repair. No explanation. No time frame. A rude maintenance guy came in, mumbled some sort of slurred response to our questions and then propped open the door to the road outside while he did some sort of light bulb thing on the patio, letting all the loud and nasty smells and noises from outside into the elegant Hilton pool-side. I was tired and grieving and losing it that we had spent the extra dough to stay the final night and have some recuperation time. I resented feeling angry, hated that I was upsetting my go-with-the-flow sisters and mad that I was being taken to a place I really resented having to go. The getting mad place. The defending myself place. The filing a complaint place. I would have to work on presenting the balanced truth, when all I wanted to do was dissolve. I had just wanted to check out with a smile on my face and muscles a lot less knotted. Now I had to be assertive. Yuck!
But, this was the Hilton, after all, and so when the bellhop arrived and gathered our bags and asked us on the way to the elevator how our stay had been I politely told him the balanced truth. Greatest hotel shower EVER. Wonderful and courteous staff. Lovely room, marvelous meals and great trade show. But to arrive with a medically supervised diet and then to be told that our requested refrigerator would not be possible was a bummer. So it was garbage bags filled with ice for 3 days at the Hilton – the Beverly Hillbillies at a hotel. I told him the no warning about the no whirlpool was a bummer. I told him the rude repairman was maddening. I told him we were not there on an expense account, not working for the man, truly a small family business that usually stays in flea bag hotels. And then I told him about how it felt to have our dog die just days earlier. And then of course, I was crying and so I shut up and blew my nose.
THAT'S WHEN IT BECAME THE HILTON. And then I knew what it meant to pay that premium and choose that brand. He listened. He apologized. He said immediately, this is not acceptable at the Hilton. Please let us do what we can to end this on a high note. And they did. Our bags were whisked to our valeted car and we were escorted into the most gorgeous restaurant in the lobby, where frankly I could have eaten the scrumptious interior design. We were served, on the Hilton's tab, of course, the most delectable 3-course meal with a specially prepared gluten-free dessert. I can't say it was as restorative on the muscles as the whirlpool would have been – but it came oh-so-close.
A third of our bill was discounted, leaving us at just about the cost of our old friend the flea bag hotel; and soon we were on the road home with gratis bottled waters to ease the drive. That is why it is called the Hilton. That is what enchantment means in the world of business. That is how it is done. We left basking in the Hilton glow. And I'm so glad we did. Because 8.5  hours of white knuckle driving later we were home. Our wonderful new intern had kept the boat afloat and the home fires burning and our surviving pets were very well cared for and all the Monday morning critical business tasks had been completed.
Except he'd completely forgotten to water – twice a day – the 4 incredibly gorgeous baskets of hanging flowers that had been my very special gift from my sisters for my 60th birthday just weeks earlier. They were incinerated. And so my joys to behold, my first thing that I looked at each morning flowers and my last thing I snuggled each night dog were both gone unexpectedly in the same week. I wish I could tell you that I handled it like a grown-up. That I kept it together and held tight to gratitude that we had traveled safely and opened lots and lots of wonderful new accounts and all of that. But, of course, I didn't. I raged. And then I wept. And then my dog and my flowers became one big chasm of loss and grief and I curled up in a ball and cried myself to sleep and woke up with no voice at all from my wailing.
Some weeks just blow so bad that even 3 days at the Hilton can't make a dent. And that's the balanced truth.