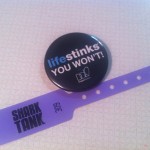 By Mary Duggan
It's finally over! But, talk about emotional whiplash.
Our experience with the Tank did not end following our casting call in Chicago last spring. We got the call back. We just couldn't tell you. Secrecy is a big part of the Shark Tank experience. What happens in the tank, stays in the tank. We understood. You all thought we'd gotten eliminated. We hadn't. We actually got the call back even sooner than expected.
Moving to Part Two was exhilarating and followed by INSANE amounts of really hard and time-consuming work. But we completed the assigned tasks and put it all in a box and mailed it to our charming Casting Producer. It weighed over 13 pounds. And again, we got the next call back sooner than we'd expected.
Before we knew it we had advanced to Stage Four. Stage Five being filming. We had advanced, we were told, to a place few people ever saw. We were in a "really good place." And then they forwarded the ENORMOUS contract and we began the work of Stage Four. We had to agree to really scary terms. We discussed, prayed, meditated, and  sought the advice of two phenomenal and trusted attorneys. We requested and got clarification on the scariest point of all and decided finally to sign the damn thing. 7.5 million eyeballs were calling to us. Generation Reality TV awaited us. We knew how terribly excited our "fans and family" would be. It is, as they say, REALLY EXPENSIVE MONEY. But we took the leap.
Finally about a week ago the call came in from Shark Tank. Suddenly it was more exciting than scary. Shark Tank was going forward with the sisters! We were given our September black out dates for filming in LA.  We agreed to a date for Thursday, July 25, TODAY, for a phone session with our newest team of producers to discuss things like wardrobe, display, etc. We sent them the next group of requirements: photos, logos and the like. We made a few of our "only as needed" shares with folks who would need to know if we were going to be out of town: staff, pet sitters, that sort of thing.
Mind you, we'd been warned. Each and every phone call from anyone on the ST team is preceded and completed with a carefully worded and firmly delivered caveat. Even if we film you, there is never a guarantee that you will be on the Tank. Until your segment airs, we might, for any number of reasons pull it. Okay? But, Ladies, congratulations, we are so excited to be going forward with you. We love you Ladies!
So, today we gather around the computer for our 2:30 Skype with our Producers. But not to discuss our wardrobe choices. It went something like this. So sorry Ladies (that is what they always called us, as they were always telling us just how much they loved us) but we have too many candidates for the show. We just keep getting bigger and more successful and more popular and we found ourselves with too many folks. And so we had to make the difficult decision yesterday to not go forward with you. And after that I am not entirely sure what got said.
Emotional whiplash. We were very polite. They were very polite. If you Ladies still need us in a year, you might want to try again, okay?
Okay? No way. I lack the emotional resilience of my amazing and courageous and positive and steadfast and determined sisters. I know we deserve more than 15 minutes of fame – everyone does. I know we can make money the old-fashioned way. We can earn it. I know that it had always been an expensive proposition. I know there are investors out there way more in sync with our values and our vision. I know. I know. I know. But why do I feel so sad? Again? Do we get any credit for having tried so hard?
I will always remember the end of our Shark Tank experience colliding with the untimely and shocking death of our sweet little dog, Chester. I think I know which memory will always hurt terribly and which one will fade away with time and victories. I think you do too.
What's next? Read Mary's final Shark Tank post: From Shark Tank to The Biggest Loser for the final chapter
About the author: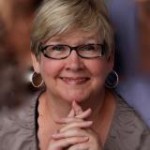 Mary Duggan is Co-Founder and President of the Duggan Sisters.
The Duggan Sisters cracked the code and created a natural deodorant that actually works: lifestinks.  We hope you will spend a few minutes exploring duggansisters.com to experience their spirited approach to wellness through their natural products and healing stories.
****** Please leave your comments and thoughts below. We love to hear from you.******
Tags: Shark Tank