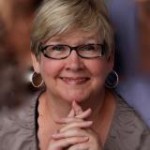 By Mary Duggan
I can't believe that the Chicago Tribune's Mary Schmich just did a piece on benches. Mary, you won the Pulitzer Prize and we all love you. But couldn't you have left the bench musings to me? Oh well, I guess there are enough observations on benches to satisfy more than one Mary Who Writes. Because lately I have been thinking a lot about benches.
It may be a midlife bad back kind of thing; but I seek benches everywhere I go. I am always on the look-out for a nearby bench when we are shopping or vacationing or just wandering. I can't always keep up with the folks with healthy spines and engaged cores; but with benches at civilized intervals I can still be a part of the fun. And I think benches have a lot to tell me about a place.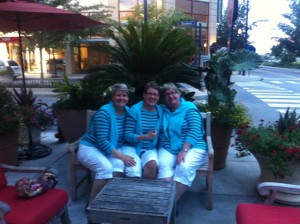 Benches humanize the landscape. This cozy sister-packed bench outside Cooper's Hawk Restaurant in Easton Square, Columbus, Ohio says thank you for coming to our area for your trade show. Relax at the end of your long day and have some fun with us before you head back home. It says please, have a happy memory on us. And come on back, y'all.
Benches can be deeply romantic. You never know who will come along and share the bench with you.  At any given moment someone might join you and conversation can ensue. Imagine what might unfold. Can anyone forget the ongoing Forrest Gump bench scene and his life is like a box of chocolates monologue? Your life could be changed forever because you took the time to rest awhile. Of course, unsavory types can come along as well. But that's the fun of it.
Benches say it's okay to be tired or weary or a little worn out by life. Benches are kind that way. A nicely positioned bench with softly curved slats is comforting and enfolding and non-judgmental. It takes the best of the inside world – a couch – and places it in the best place of all – the outdoors. Natural and intimate and perfect.
Benches are love seats in public. They invite snuggling and hugging in a way that chairs just can't. They say let's just sit here and lock arms and remember this moment forever. They say you moved to Holland and I miss you in ways that physically hurt. Just sitting with you on this Gaudi designed bench in Delft wearing sandals with socks will have to sustain my sister need to hang out with you for a long, long time.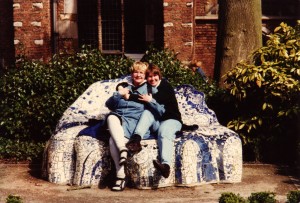 Benches line the waiting areas of hospitals and say this might take a while. Let's sit together and huddle up and wait it out. Those benches have held me bored and in pain, traumatized and terrified. They have supported me through some of the worst experience of my life.  But even at home for non-emergencies benches can be healing way stations. Perfect for taking a small patient out of the flow of foot traffic – for a little special attention – and some necessary meds.
Benches can be whimsical and artsy. And when you stumble on a bench in an art gallery that is shaped like a blue butterfly and a blue butterfly is the brand new logo for your little family start-up business with the great big vision for itself you feel smiled upon. And that is the best a bench can do for anyone.
I have to wonder if a church pew is a bench moved indoors or if a bench is a church pew moved outdoors? They feel so alike in their sit quietly and marvel quality.
Don't you just love benches?
About the author:
Mary Duggan is Co-Founder and President of the Duggan Sisters.
The Duggan Sisters cracked the code and created a natural deodorant that actually works: lifestinks.  And that was just the beginning. We hope you will spend a few minutes exploring duggansisters.com to experience their spirited approach to wellness through their natural products and healing stories.
****** Please leave your comments and thoughts below. We love to hear from you.******