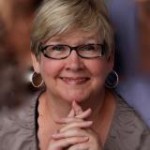 By Mary Duggan
Hobbling away from the Indiana Dunes on Sunday I worried that I was losing my beach mojo. It felt just a little too hard: too much prep, too much dragging, too much driving – and that scared me. Summer beaching is an important part of my personal identity and my family heritage. It's also on my list of okay, I'm ready to die now markers. I can no longer get to the beach. Along with, I can no longer take long hot baths or read long complicated books. That sort of bucket list.
Growing up on the South Side of Chicago always meant driving to the beach. Sunday was Rainbow Beach when I was a little girl with the most enormous family and all our beach gear packed into a station wagon. A covered tray of brownies, a jug of hot dogs suspended in hot water on strings, bags of buns and all the fixins of relish, mustard, onions – the works. Salty chips and a big bowl of carved watermelon rounded out the menu while we wet our whistle with a big thermos of iced cold lemonade for the kids and a small thermos of coffee for my folks. It was heaven. I was hooked on the beach for life.
Mid-week outings meant driving downtown in the station wagon to gather up my Dad from his job in advertising and heading to Oak Street Beach for a picnic dinner. The menu was my Mom's famous pan-fried chicken with white bread and butter sandwiches. I remember the brownies and me sipping coffee with my parents – just that once – and talking about my summer read of Anna Karenina with my Dad: the whitest, skinniest man ever seen on any beach. I thought my parents were so romantic to be having dinner on a downtown beach; even though there had to be at least a half-dozen of their eleven children in tow. I treasure those memories and they help to balance the pain of their divorce some years later.
Other beaches companioned other stages: Loyola beach as a young woman on the "North Side" rebuilding my life post-divorce. Living close to the beach meant glorious daily playtime with my cherished dog, Ceiliedgh. It also meant there was not the exhausting towing of a day's worth of food and comforts that beaching usually required.
But more than any other beach, I connect summer with the hour long journey to the Indiana Dunes. Over the years I have shared beach joy and the most wonderful food with friends and family. Now it's just me and the girls. Like putting up a Christmas tree, sometimes it is almost too much in the memory department; too weighted with summers past, and family departed and friendships no longer intact. Still we go. And food is what unites the memories. Sometimes in the summer we sneak away just a little bit early from the rigors of deodorant making. We pack a light meal and play hooky with dinner at the dunes. It's a summer must.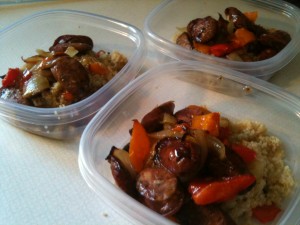 While the girls pack a full day into a few less hours, I cook quinoa. In the summer-friendly toaster oven, I bake organic Italian sausage with onions, peppers, salt, pepper and olive oil. Scooped over the quinoa, it stays warm for the hour drive and it is heaven on a beach. Fast, easy, transportable. That's the formula.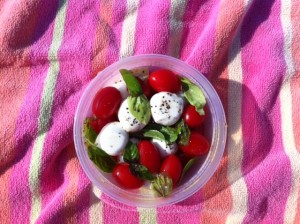 To continue the Italian theme, individual caprese salads. Cherry tomatoes and balls of mozarella mean no knives involved. Just shredded basil from the yard, and again salt, pepper and a splash of olive oil.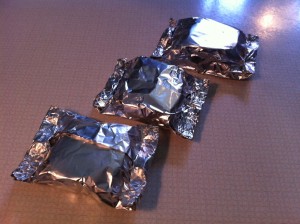 And because tradition is so important; guess what is wrapped up in foil. One homemade gluten-free brownie with walnuts for each sister. A healthy and portion-controlled modification of our deadly childhood treats that taste not just as good but even better made up without a frankengrain. Again, baked in a toaster oven for a cool kitchen; and we have 9 brownies to disperse over the a few days.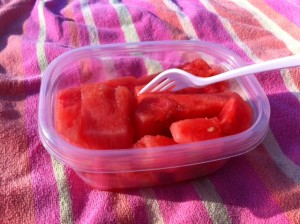 Tradition, again. It is not the beach without watermelon and a salty treat – Skinny Pop, of course.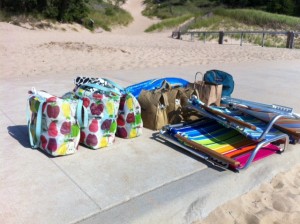 Pile it all in the trunk of the car. Towels and lotions and beach chairs and umbrellas and snacks and drag it all down to the beach for a few hours of wind and water, conversations and iPODS, and sandy power-napping. Then drag it all back to the car and endure the one hour return ride home.  I like to follow it up with a hot bath and a little TV. But this time we wrapped things up in grand style at a traditional South Side Supper Club: fried perch, mashed potatoes, wilted spinach,  and wine. Only it wasn't the famous Phil Schmidt Restaurant of my youth. Annie made it all happen in our own little kitchen. Heaven.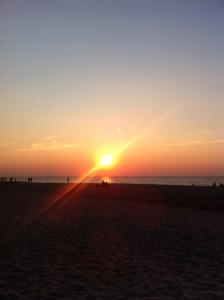 A full day at the beach or just dinner at the dunes. Summer is so fleeting. Play hooky while you can.
About the author:
Mary Duggan is Co-Founder and President of the Duggan Sisters.
The Duggan Sisters cracked the code and created a natural deodorant that actually works: lifestinks.  And that was just the beginning. We hope you will spend a few minutes exploring duggansisters.com to experience their spirited approach to wellness through their natural products and healing stories.
****** Please leave your comments and thoughts below. We love to hear from you.******