We were all on a powerful deadline when our early December bout with the flu landed. Chicago's One of A Kind Show and Sale was days away and it's a biggie for us. It's a massive investment in time and resources and we have to be able to sell, sell, sell to the crowd of 75,000 attendees over a period of four days to recoup our dollars. And selling means on our feet 10 hours a day and talking, talking, talking.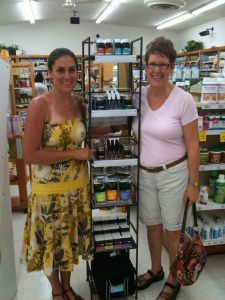 It was time to call in Katie Speh from our local Southtown Health Food Store. We love our doctors: integrative, chiropractic and TCM – but when it comes to OTC remedies and the smarts to know what to grab, we always turn to Katie Mahler Speh for the best there is. As she stuffed our shopping cart with the products we've shared in this 3-part blog, she told us to check our text. She was sending us a tried and true recipe to knock this thing on it's butt and get us back on our feet. Here's the recipe: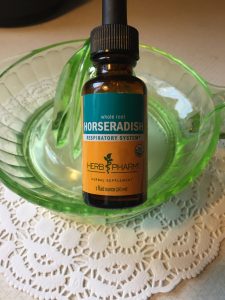 KATIE'S KILLER COCKTAIL
4 ounces of water
the juice of one lemon
2 droppers of Horseradish tincture
Stir and drink 4 times a day and be forever grateful to Katie for sharing.
This simple cocktail really turned the tides for me. It cleared my head thoroughly and was really instrumental in this flu not going to my chest. And no balking about the horseradish; mixed with the lemon juice it was actually tasty (or so I thought –  my sisters, not so much.)
But we still left the store with 2 forms of cough syrup – just in case. And Annie, who did suffer with the cough, was glad we did. They're both great. On the right, Enzymatic Therapy's Bronchial Soothe, Ivy Leaf,  which we always keep on hand for simple nagging coughs. This year we added in Terry's Naturally Bronchial Clear Liquid – the #1 German Formula. It's big medicine if you're troubled with congestion and need help to expectorate. Getting a handle on your cough is critical to being able to really sleep. And deep sleep is critical to fighting the flu and winning.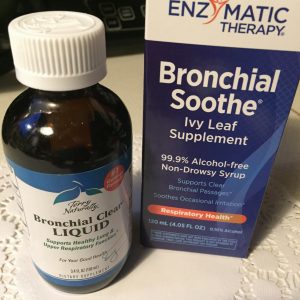 That's all I've got folks. I hope it helps. Along with chicken soup, of course – because it works – for both body and soul.
With Katie's guidance and lots of product we were back on our feet in no time and able to enjoy seeing so many of you at Chicago's One Of A Kind Show And Sale. I cautioned so many of you there to take this year's flu seriously and I promised a flu blog to help. I've delivered the best I've got with my homespun smart phone photos. And now I'm going to pack away all of these remedies – and hopefully not pull them out again this year.
I hope these tips keep the beast out of your home altogether; or at least helps you to slay it – if you must.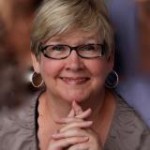 About the author: Mary Duggan is Co-Founder and President of the Duggan Sisters, creators of lifestinks® natural deodorant that actually works and lifestings® DEET-free bug repellent. 
Spend a few minutes exploring duggansisters.com and experience the sisters' spirited approach to wellness; discover their award-winning natural products; and read their stories of victory against the odds. Connect with the Duggan Sisters today!